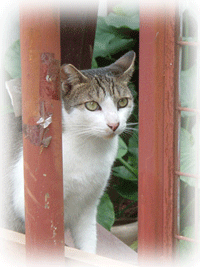 At present donated funds go toward street cats with injuries and newborn kittens needing urgent medical care. Due to a lack of regular funding we only have enough funds to treat cats in our neighourbood but hopefully this will change in the future. Since our website was launched in early 2004 we have been inundated with pleas for help, and although we strive to do everything we can to help, it is impossible to continue on such a large scale.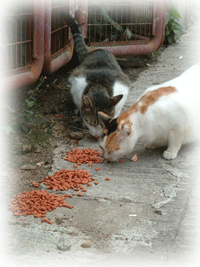 We are only infact two people with a handful of foster homes and no other facilities in which to house the cats and kittens awaiting adoption. Although we will persevere in our efforts to help our feline friends, our main emphasis is TNR, and we encourage more people to get involved as we believe strongly that this initiative offers the best solution in decreasing the number of kittens born and abandoned on our streets. If you are interested in helping in TNR, please call the SPCA's headquarters in Wanchai on 2802 0501 and ask to be put through to the Cat Colony Care department.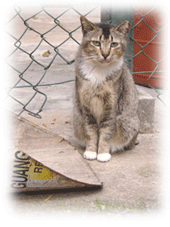 We have recently been inundated with stray cat calls. Due to the fact we are two people and a handful of foster volunteers, we are physically unable to deal with many rescue situations - we are simply not equipped. We urge people to contact the SPCA. We will continue to welcome calls concerning orphaned new born kittens, though this depends solely on there being 'enough room at the Kitty Inn'. We are more than happy to point people in the right direction. If you do find a kitten or a cat, our main obstacle is not having anywhere to board them as we DO NOT HAVE A CENTRE, all fostering is done from people's homes. You would be helping by keeping the stray at your house until it's healthy, or until we can at least find an alternative foster or permanent home.
Please visit our Adoption Gallery page for a detailed description of cats available for homing and our Success Stories page. If you have adopted a cat through HK Alley Cat Watch, a picture of you & your moggy will be there.
To answer any health queries you may have about your cat, please visit our Vets Questions & Answers page. An updated Q&A is posted each month, if you would like to have a question answered by a vet you can email us directly.
We ask potential families to think long and hard before adopting, especially if you know you will eventually leave Hong Kong as it's much harder to find a home for an older cat than it is a kitten. We encourage any family leaving HK to consider taking their companions with them, unless of course the best homes can be found for them.