Adoption Requirements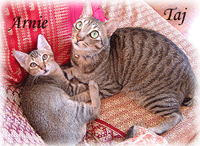 If you are reading this section you will have thought long and hard on whether to adopt a kitten or cat. You have decided you are now ready to commit yourself for the next 15-20 years and can give the very best to your new family member. Please read below to see whether you agree to the following requirements for adopting a cat through us.
We always have lots of adorable kittens and cats that are available for adoption. Families should consider adopting an older cat (if you are only set on having one cat). Many people overlook the full-grown cats for a cute kitten and forget that in a matter of months the kittens turn into cute cats. We urge you to please consider adding a loving adult to your home. Open your hearts and homes to these cats as they will bring you so much love. Please also check our Special Adoption Cases section if you have the patience and dedication of adopting a cat with disabilities as these cats always seem to have the best characters.
At HK Alley Cat Watch we suggest that kittens are adopted in pairs (siblings or friends) or one kitten to a home with a lonely cat. Kittens need the companionship of another feline! If you are looking just for one kitten, we suggest adopting a young adult cat instead.
All cats that are adopted are required to be spayed or neutered by the time they reach 6 months of age (this is mandatory). If the cat has not been desexed upon adoption, it is your responsiblity to ensure that you desex your pet no later than 6 months old.
Any cat adopted through HK Alley Cat Watch cannot be de-clawed. No matter whether or not you feel this practice is cruel, it takes away the cats means of defense. De-clawing a cat also promotes biting, and a de-clawed cat will have the tendency to nip at other cats and other people. It also causes unnecessary stress in highly strung cats as well as being an unimaginably painful experience for the cat.
We also do not recommend the adoption of a small kitten if you have toddlers in your home. Kittens are easily stepped on, and when chased they may become traumatized and turn into skittish cats that hide and become unsocial. If you decide you would still like to adopt a kitten you should be fully aware of whether your child has any allergies (i.e. asthma) and to accept the fact that your baby may get the odd scratch or two from playful paws.
We cannot guarantee the health of the cats/kittens. Many of them are strays and therefore we have no record of their medical history. It is strongly advised that you keep your new addition and your own cats (if applicable) separate for a period of 2 weeks minimum. This not only allows your own cat to get used to the idea of the new addition, but also ensures that no possible infections are spread. Please make sure that all your cat's vaccinations are up to date as well. We will provide medical details where possible and also provide a vaccination card (depending on whether the cat(s) have been healthy enough to have their first set of vaccinations prior to being adopted.
Home visits may be required from time to time to see how your new addition is settling in.
Proof of address is to be supplied on adoption day.
The person who is going to adopt the cat(s) must come in person to view/adopt the cat. Under no circumstances will cats be adopted out on behalf of friends or family.
Cat proofing is to be requested prior to adoption for families living in high-rise apartments with balconies. Unfortunately the number of cases of cats falling out of windows in HK is very high (especially if your cat has been used to going outdoors and then is restricted to indoors, it may mistake an open window for access to the garden area etc). It is inexpensive to cat proof your windows and balconies and can save the life of your indoor cat. To find out details on cat proofing please email michelle@hkalleycatwatch.com.
When leaving the country at HK Alley Cat Watch we feel strongly that the cat(s) go with you as it is irresponsible to consider otherwise. The most common excuse we hear is "we don't want our cats to go through the trauma of being shipped". This is no longer the case as there are extremely good pet exporters. Visit our Pet Export section to contact a Pet Exporter for travel info www.hkalleywatch.com/petexport.html. It is surely more traumatic for the cat to be left behind. We will of course try to help families that we consider "special cases", but all efforts should be made first by the family to look for a home and enough time should be given to do so as two weeks notice is simply unrealistic.

We do ask for a minimum of HK$1,000 contribution towards medical expenses for each adoption. If at the time of adoption if the kitten/cat is old enough to be desexed this amount will cover the desexing fee as well as all vaccinations up until the adoption date. This cost sometimes does not even cover half of the medical expenses some of our rehabiliated cats have cost us and most times we absorb the additional expenses as best we can. We are of course are always grateful for any offers above and beyond this amount.
If you have read the above and you agree with our requirements, you can complete an Adoption Registration Form.
Then please email to: michelle@hkalleywatch.com to start the adoption process!


 Requirements are subject to change at HK Alley Cat Watch's discretion without any prior notice

22.01.05

.