HOW TO MAKE A DONATION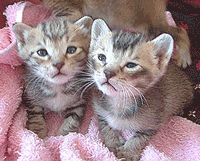 Donations, however small, are gratefully received and go towards the needs and upkeep of homeless cats and kittens. As a non-profit Society, there are no hidden costs with all monies received going towards veterinary treatment and food. HK Alley Cat Watch is a volunteer run organisation.
If you would like to send us a one-time donation, or set up a monthly standing order, our bank details are as follows:
BANK: HSBC
ACCOUNT NAME: Hong Kong Alley Cat Watch
ACCOUNT NUMBER: 043-291921-001
Other hard goods you could also donate:
- Ink Cartridges (Epsom 750 stylus) for printing out flyers
- Cat carriers or cat bags
- Cat trees (if you've bought one and your cat doesn't use it, we will be able to put it to good use)
- Stationery items (paper etc)
- Old Towels or blankets(hand ones for kittens)
- Old litter trays that you are going to throw away
- Cat litter
- Hot water bottles
- Flea & Tick Treatments
- cat Shampoo's
- Kitten milk formula
- Cat food is always handy to feed the masses and for foster kittens (canned or dried)
- Storage space in Central would be fabulous for cat food (if anyone has an office with an unused back area).
Services:
- Someone to help with designing flyers and posters

To give you an idea our vet bills range from HK$200-HK$2,000 approx per cat in some cases. We have taken on a lot of intensive cases recently, so it's been very spendy for us. However we go on with our motto ("that all creatures deserve a chance"), and while we have the funds to do this, we will continue to follow this.
Please contact on michelle@hkalleycatwatch.com if you are able to help us with any of the above mentioned items.
Grateful thanks,
Michelle & Marian

21/10/04